A taste of Egypt … in Dexter
By Candace Bulkley and Trina Fuller
Candace and Trina became friends in the Temple Beth Emeth adult b-mitzvah class that graduated in 2022. They will be honing their palates, visiting, and writing about a variety of independent, locally owned Washtenaw County restaurants, catering to a variety of dietary preferences.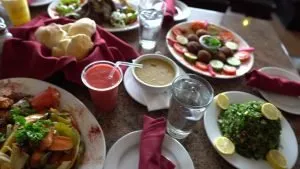 The Metro Detroit area is home to over a quarter million culturally and religiously diverse people from the Middle East, and Southeastern Michigan is known for its excellent selection of Middle Eastern restaurants. Whatever your dietary lifestyle may be, this regional cuisine has you covered without making you feel like your meal was an afterthought. Based on the sheer quantity and quality of local restaurants, it seems we can't get enough of this simple yet incredible food. Many of the local establishments serve a tried and true Lebanese style of fare with some more diverse traditional dishes hiding in plain sight — those were the hidden gems we found at La Marsa.
Always on the lookout for interesting new spots around town, we noticed that La Marsa was getting rave reviews on social media and decided to take a ride out to Dexter to investigate.
We found the restaurant easily, located in a nondescript strip mall with plenty of parking, next to a dog grooming business. It looked like your average neighborhood Middle Eastern restaurant — which it was in many ways.
There are some standard-bearers in Middle Eastern food you must try to see how they stack up against others you have had. Not surprisingly, we started with a plate of hummus and a sample of baba ghanouj, which our server was kind enough to arrange. The dips arrived quickly and were accompanied by a basket of freshly baked pita (no plastic baggies of pre-cut pita here) and a not-to-be-missed toum — the wonderful garlic dip no one ever knew was missing from their life until their first taste. The baba ghanouj was well seasoned, with a lemony brightness that complimented the smoky, finely chopped eggplant. On the other hand, the hummus was lackluster. It was not especially smooth or luxurious as some we have eaten and not as garlicky or tahini-forward as others.
Standard-bearers aside, we decided to dig deeper into the menu to try some items new to us. And we were rewarded. From the appetizer menu we ordered fool (ful), described as fava beans sautéed with tomatoes, onions, and seasonings. We later learned, when the general manager stopped by our table to check on us, this is a typical Middle Eastern breakfast dish with as many variations as there are mothers cooking it. One diner's trepidation turned to pure joy with their first bites of this simple yet complex and oh-so-flavorful homestyle dish. The fava beans were served with a plate of olives, sliced jalapeno, and sliced raw onion. We were instructed to put it all in a pita with a drizzle of olive oil; you will be transported! This is a dish that is meant to be shared but you might not want to after trying it. Bonus points: Fool (ful) is vegan and gluten free.
While waiting for our entrée, we sampled the vegetarian crushed lentil soup and a fattoush salad with chicken shawarma. The richly colored soup was well seasoned and had a light touch of lemon flavor balancing the warmth of cumin and was quite good. The salad greens and vegetables were fresh and were tossed with the traditional tart sumac vinaigrette. The chicken shawarma served on the side could have been hotter and fresher. Although, the leftovers made into a sandwich later were redeemed.
Another unusual item caught our eye, koshary, which was offered on the traditional menu. Now, while reading this in the Washtenaw Jewish News, you might think that we misspelled Kosher, but no: koshary (koshari) the general manager explained, is considered to be the national dish of Egypt, which originated nearly 5,000 years ago in India. Most people buy it from their favorite vendor for lunch in the open-air markets. This is indeed a curious dish which makes no sense — until you taste it. La Marsa's version contained rice, lentils, two types of pasta (spaghetti and elbow macaroni), and a thick tomato sauce, and was topped with golden fried onions. On the side you are served a cumin-tinged vinegar dressing (mild or spicy) which you pour on top before digging in. What didn't make sense to the brain made sense to the palate. It is the type of wholesome, warm dish that would be perfect to warm up on a brisk fall day.
At the most basic level, Middle Eastern food consists of the same simple ingredients we all know and probably eat often: bread, fresh vegetables, legumes, rice, and meat. The magic happens in the aromatic warmth of seasoning, skilled preparation, and very long culinary tradition. It's also amenable to different dietary needs, especially plant-based diets. We are very fortunate to have such cultural diversity in our midst and were delighted to sample some of the Egyptian flavors of Middle Eastern food in addition to the Lebanese specialties that are more familiar in this area.
Jump off the beaten path and try something new from the menu the next time you dine out!
La Marsa
7049 Ann Arbor Rd., Dexter
734.580.2342
www.lamarsacuisine.com