Anthony Russell joins Beth Israel as musician-in-residence
by Barbara McAnelly for Beth Israel Congregation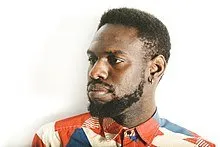 Anthony Russell will join Beth Israel as our fall musician-in-residence on October 13 and 14. He will co-lead Friday services and give d'var on Saturday, as well as an adult education class on Saturday afternoon at 1 p.m. entitled "Written in Breath: Yiddish Song as Commentary." Mr. Russell joins us in partnership with the Frankel Center, where he will be participating in the Frankel Center's conference on Jewish Education on Sunday, October 15.
Anthony Russell is a performer, composer, and arranger specializing in music in the Yiddish language. His work in traditional Ashkenazi Jewish musical forms led to a musical exploration of his own ethnic roots through the research, arrangement, and performance of African American folk music, resulting in the EP Convergence (2018), a collaboration with klezmer consort Veretski Pass exploring the sounds and themes of 100 years of African American and Ashkenazi Jewish music.
Inspired by an ethnographic trip to Belarus and Poland as a Wallis Annenberg Helix Fellow, Anthony formed a duo, Tsvey Brider ("Two Brothers"), with accordionist and pianist Dmitri Gaskin for the creation of new music set to modernist Yiddish poetry of the 20th century. Their new album, Kosmopolitn, was released in August on the Borscht Beat label.
A Hadar Rising Song Fellow (2021–22), Anthony is also an essayist on music and culture in a number of publications including Jewish Currents and Moment Magazine. Anthony lives in Atlanta, Georgia, with his husband of six years, Rabbi Michael Rothbaum.