Lonnie Sussman, special to the WJN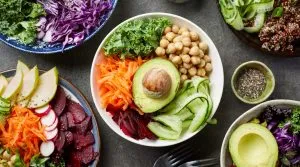 The garden and the farmers markets are full of beautiful fruits and vegetables. I love the vibrant colors and all the shades of green, red, yellow, and even purple (beans). It is easy to eat the Mediterranean food style that is heavy on fruits and vegetables along with fish, chicken, or even lamb or beef. I am ignoring the chicken, lamb, and beef for now but I'm sure all who enjoy those foods are grilling, stir frying, or even baking despite the heat of summer. I'm more interested in what is easy, quick, and healthy. Here are some ideas for using the vegetables and please add the proteins of your choice (BYOP).
Sheet Pan Roasted Vegetables with Chickpeas
From the "All Recipes" blog or whatever this is. I get it in my email.
Serves 4–6 but easily doubled
I must get half a dozen emails with recipes from cooking websites, food blogs, and friends every week. Thank you all. As a result, I have hundreds of recipes or articles saved on my computer. People ask me all the time how many I make but I confess many of these recipes are "inspirational" but not always actualized. Here's a recipe that I have made and often adapted depending on what vegetables are in the refrigerator.
2 cups baby potatoes
3 tbs olive oil for the potatoes and more for the vegetables
2 cups cherry tomatoes
2 cups green beans, cut into 1-inch pieces or any other vegetable you have on hand (broccoli, carrots, etc.)
4 cloves of garlic
2 tsp dried basil although I use fresh to sprinkle on top of the roasted vegetables
1 tsp sea salt or Kosher salt
1 15-oz can chickpeas or Great Northern beans
More salt and pepper to taste for the beans and vegetables
Use two baking pans and either spray with oil or use parchment paper or foil and put the potatoes on one sheet pan and the veggies on another. It will take about 20 minutes or so for the vegetables and about 30–40 for the potatoes. That's it! Feel free to add feta cheese or any other protein you like.
Whipped Tofu
Bon Appetit Magazine (but it also came in an email), written by Kate Kassin, who writes she is basing this recipe on one from a Chicago restaurant called Second Generation.
Makes about 1–2 cups of whipped tofu.
1 14–oz block of firm tofu
6 tbs water
1 tbs olive oil
1 lemon, zested
Put the tofu in a blender or food processor and blend for 1–2 minutes or until the tofu is silky. Add the water and olive oil. Season it with salt and pepper to taste. Use this as a dip like you would with ricotta cheese for raw vegetables or as a dressing for a tomato salad, or roasted vegetables and chewy grains.
Beautiful Tomato Salad
from Bon Appetit, written by Sarah Jampel
Serves 6
The idea here is color. Use tomatoes of different colors highlighted by the green of mint and basil leaves and the white of feta cheese. I recently made it but without the pita chips — the family ate them before I could put them in the salad. That's why I suggest hiding the chips or buying more. You could serve them before the meal with some hummus.
3 medium–sized heirloom tomatoes
12 oz mixed color cherry tomatoes
1 ¾ tsp Kosher salt, divided
1 lemon with part of it zested to get about ½ tsp zest
½ clove garlic
6 tbs olive oil
2 tbs za'atar spice
2 cups pita chips (keep them hidden until you put them in the salad)
1 ½ tsp honey or more to taste
3 ½ oz Greek style feta
½ cup basil leaves and ½ cup mint leaves
Core the heirloom tomatoes and cut them into 8–12 wedges. Cut the cherry tomatoes into halves through their equator. Place all the tomatoes into a large bowl and add 1 tsp of the salt. Zest the lemon and grate the ½ clove of garlic. Heat the 6 tbs of olive oil in a small pan and warm the oil for a few minutes. Add the za'atar, stir until fragrant and darker in color, another minute or two, then stir in the lemon zest and grated garlic for 10 seconds and remove from the heat. Put the pita chips in another bowl and pour the heated, flavored oil over them and season with salt, if needed. In a measuring cup add 2 tbs lemon juice and 1 ½ tsp honey and add to the tomato salad along with the pita chips. Finally, slice up the feta and add it along with tearing up the basil and mint leaves and add to the salad.
Chicken Stir Fry in Lettuce Cups
The VB6 Cookbook by Mark Bittman
Serves 4
You know Mark Bittman from his other cookbooks like How to Cook Everything. This one encourages vegan before 6 p.m. That turns into VB6. He suggests using frozen edamame if you want to keep this vegan. Try to chop the chicken and vegetables about the same size, about ½ inch or so.
1 head iceberg, bibb, or other type of lettuce
2 tbs vegetable oil
12 oz boneless, skinless chicken thighs, chopped
½ tsp salt and ½ tsp pepper
2 tbs minced garlic
1 tbs minced ginger
1 bunch scallions, green and white parts separated and chopped
1 carrot, chopped
½ pound asparagus or snow peas, chopped
½ pound shiitake mushrooms, chopped
2 celery stalks, chopped
¼ cup chicken or vegetable stock or water
2 tbs soy sauce
Sauce for the Wraps
¼ cup mayonnaise or veganaise
2 tbs fresh lime juice or more to taste
2 tbs sriracha or other hot sauce, or to taste
¼ cup water
Mix these ingredients together and adjust the seasonings. Use for the dipping sauce.
Core the lettuce and carefully remove intact leaves, as many as possible. Rinse and wrap them in towels and refrigerate for a few hours. Use a large skillet and heat on high. Add 1 tbs oil and swirl it around the pan, add the chicken (or edamame), and sprinkle it with salt and pepper. Cook undisturbed until the pieces brown and release easily from the pan. Then add the garlic and ginger and stir the pan, then add the remaining oil along with the white parts of the scallions. Stir occasionally and cook until they are golden. You may need to turn down the heat. Then add the remaining vegetables, except the scallion greens, one at a time, stirring between each add. Cook for about 5 minutes until the vegetables are crisp-tender. Return the chicken to the pan along with the stock, or water, soy sauce, and scallion greens. Cook and stir, trying to scrape up any browned bits on the bottom of the pan. If needed, add a little more stock or water to help the mixture make a little sauce, maybe 1 more minute. Turn off the heat.
Cooked Salmon Poke Bowl
The Hungry Waitress blog
Serves 4
My sister-in-law's sister, Beth, is a fabulous cook. I asked her what she is making this summer, and this is one of the recipes she sent to me. There is another recipe that she sent but I don't have room to write it. If you are interested, check out UMAMI GIRL for an "Easy Vegetarian Ramen."
2–4 salmon fillets cut into 2-inch pieces
1 cup rice, any kind you like, or quinoa
2 cups broth
½ tsp salt
1 tsp olive oil
Marinade:
⅓ cup soy sauce
1 cup broth, either vegetarian or chicken
⅓ cup honey, or brown sugar, or maple syrup
1 tbs rice wine vinegar or use distilled or red or white wine vinegar
¼ tsp garlic powder
¼ tsp ground ginger
Toppings
Use one cup each of sliced avocado, cucumbers, shredded carrots, red peppers, and add some sesame seeds and cilantro (or parsley) and squeeze some lime juice on top.
Marinate the salmon for at least 20 minutes in the refrigerator.
Make the rice (1 cup rice and 2 cups broth). Use ½ tsp of salt in the water, although you may not need it as the soy sauce in the marinade is salty. Heat a large skillet and add the tsp of olive oil.
Remove the salmon pieces from the marinade and place in the skillet. Gently cook on all sides for 3–4 minutes on each side.
I'd let everyone make their own bowls using the rice, the salmon, some of the marinade (but boil it first — I don't think you should use the marinade that the raw fish was in without boiling), and adding the toppings they want.